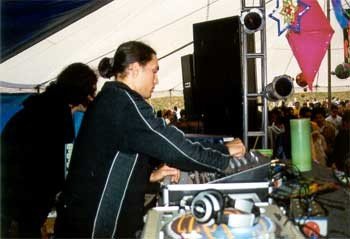 In 1996 two university undergraduate students met fortunately at their first day of arrival in Woolwich Arsenal, South London, UK. Both hailing from Thessaloniki, Greece. A brief trip to Camden Town with fellow students and the discovery of common musical background a friendship had begun. Soon they were both freshly introduced to the UK psytrance party scene. A few months later a big question started creeping into conversations. How do you produce these sounds that like-minded people so much enjoy dancing to?
So in the spring of 1997 Magus was born. Chris Tatitzikidis, the technical and musical brains behind the Magus project had the first Cubase sequencer installed and started writing "Eleusinian Mysteries" with Kostas Alekoglou. The first Magus track was born after 6 months of writing between UK and Greece in the spring, summer and fall of 1997. A strong bond was formed. Old and new friends liked this new sound and the group became a favorite in their home town Salonica. A dark and aggressive take on the modern trance music of those years with blazing distorted guitars, epic melodies, 32 overloaded channels at a whooping 154 BPM.
As time passed by, speed eased to 145BPM and the music became more mature and structured, always with a healthy dose of experimentation. by 1998 the duo started winning aclaim amongst the psychedelic underground with DAT swapping and started knocking on record label doors. After a few near misses, Magus signed with Creamcrop records and the first release occured in 1999 on the Danish label in the form of a vinyl EP named "Crystall Ball". The track was played by top DJ Frank E (Koxbox) in the 2000 New Year South Africa Trance party. The second track from that EP was a track from Igneous Sauria, the personal project from Chris. From then on, Magus contributed on many compilations across a variety of labels including Flow Records, Digital Psionics, Resonoise, Uphonic and others. On the most successful tracks was the night-stormer Digital Silence, written and produced by Chris Tatitzikidis and released on Creamcrop.
The band was travelling, promoting the new tracks by playing live frequently in the UK, Denmark, Germany, Portugal, Greece, France and Brazil, with Kostas playing his first DJ sets. During their time together Chris and Kostas met and worked with many great artists: a collaboration with French prog trancers Yumade recorded in Denmark, a remix of Digital Silence with Chris from Sententia and the track 'Imploded Brains' with New Zealand DJ Pied Piper Paul.
The Magus sound
Magus became initially known for their weird combination of sounds, experimental off-beat rhythms and surreal sampling. The DAT days, tracks were influenced by the Australian, German, French and Swiss sound. Later on BPM dropped to 138-142BPM with the sound maturing and becoming more minimal. Writing the music was always the best fun and the studio was booming with energy. Change was part of the Magus mentality, innevitable to keep the situation interesting and psychedelic. All artistic decisions were based on taste and sound preferences and not of commercial value. Magus never went into the trance mainstream in search of popularity, only driven by passion for the music.
The recording circle ended in 2005 with the release of Magus - Remixes by Chris T. label Headstick recordings. Various artists such as Man Made Man, Sentient, Big Wigs, Genetic Spin, La Baaz, DJ Seth and Bar Code paid tribute to the Magus sound. Chris and Kostas contributed remixes of tracks using their personal projects Igneous and Phacelift.
As a token of appreciation to many friends of the Magus sound, the band will be releasing an album titled "Music That Never Was" in 2011 as a digital download. The album features previously unreleased tracks from the 1997-2003 years marking a range of different styles and ever-changing ideas and sounds. magus.eu.com