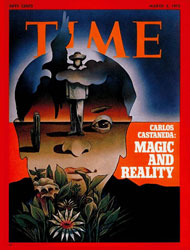 "A man of knowledge lives by acting, not by thinking about acting."
The great shaman, philosopher and anthropologist whose work and life has been called controversial and widely disputed, even at his death. Modern historians and fans have always disagreed on the existence of the main hero, philosopher Don Jouan and his disciples.

The tale begins with the first book, where all the ground work is laid out and Castaneda rids of his fear, for life. The Teachings of Don Jouan: A Yaqui Way of Knowledge start with the consumption of mushrooms and other strong psychedelics. Slowly the philosophical aspect grows deeper and more complex, reaching a climax with his masterpiece The Art of Dreaming.

The teachings are universal and through Castaneda's tales of shaman magic, you will find many everyday practical solutions for living life at the full, feeling strong and determined, free of fear and anger.
Discover a world beyond your imagination but within your capabilities. But do not be fooled. These books contain much more philosophy than descriptions of mind-altering states. Also do not let your self be put off by the repetition in the early books. Castaneda usually asks the same questions over and over again to Don Juan. But with repetition always comes knowledge as you gain an insight into the complex cosmic theories of the Mexican shaman.
Always try to read Carlos Castaneda books in order of publication as the story and philosophy unfold. It should really help understanding his teachings, rather than simply follow the plot of every book unfolding. Some might say that it is impossible to fully grasp the meanings of these books if you do not read them in their original order.
Carlos Castaneda Bibliography
The Teachings of Don Juan: A Yaqui Way of Knowledge - Carlos Castaneda
Separate Reality - Carlos Castaneda
Journey To Ixtlan - Carlos Castaneda
Tales of Power - Carlos Castaneda
The Second Ring of Power - Carlos Castaneda
Eagle's Gift - Carlos Castaneda
Fire from Within - Carlos Castaneda
Power of Silence - Carlos Castaneda
The Art of Dreaming - Carlos Castaneda
The Active Side of Infinity - Carlos Castaneda
The Wheel Of Time : The Shamans Of Mexico Their Thoughts About Life Death And The Universe - Carlos Castaneda
The Witch's Dream : A Healer's Way of Knowledge - Carlos Castaneda